2022 | Tai O Heritage Hotel Extends CNY Wishes to the Community
8 February 2022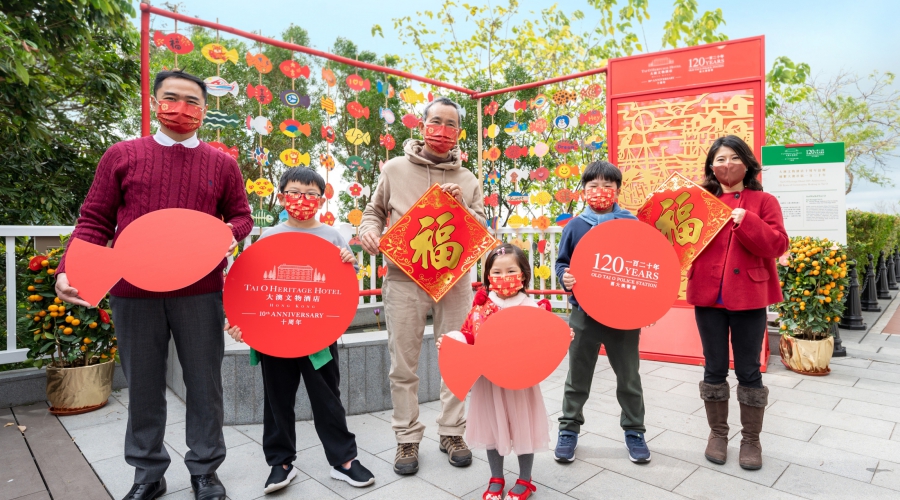 MORE PHOTOS
Tai O Heritage Hotel has joined hands with Tai O artist Stanley Wong and the Tai O community to present auspicious public art installation, See Through Tai O, to extend hearty new year wishes to the community. The art piece comprises a paper-cutting-inspired wooden panel and 120 colourful fishes hand-painted by Tai O students and hotel volunteers, bringing joy and festive cheer to the neighbourhood. Additionally, Hospitality Young Leaders have joined representatives of hotel and partner Hong Kong Family Welfare Society in visiting elderly villagers and presenting festive goodies to spread love and care.
Tai O Heritage Hotel, converted from the Old Tai O Police Station built in 1902 and designated as a Grade II historic building, seeks to preserve the historical significance of the architectural gem. Operated as a not-for-profit social enterprise with surpluses used to support site maintenance, the hotel has been working closely with the community to promote eco-tourism since opening in March 2012.
2022 holds special meaning as Tai O Heritage Hotel celebrates the 10th anniversary while the historic building housing the hotel is celebrating 120 years of community-making. See through Tai O heralds the art programme in honour of the remarkable milestones.
'It is my great pleasure to work with Tai O Heritage Hotel to present See Through Tai O. Drawing inspiration from the folk art of paper cutting, the art piece celebrates the traditional culture and vibes of Tai O, and presents lifestyle of the fishing village with carved wooden panel. The other component, comprising 120 colourful hand-painted wooden fishes, highlights the bonds between Tai O Heritage Hotel and the community,' remarks Stanley Wong, Chairman of the Tai O Cultural Association.
Augmented Reality has been added to the public art. Koi carps, symbolising courage, abundance and success, have been featured to extend hearty wishes to the community.
'I appreciate all the love and care from Tai O Heritage Hotel and like meeting with their young volunteers, that is particularly heart-warming on such a special occasion,' remarks Yuk-Lan Lee, a Tai O resident.
'The Lunar New Year is the most important occasion for the Chinese and Tai O communities with many auspicious festivities. We are delighted to join hands with the community and friends to celebrate this important occasion together. I would like to sincerely thank our like-minded partners for the support, and colleagues for the good efforts. May I take this opportunity to wish all a happy, healthy and blessed Year of the Tiger,' remarks Mr Daryl Ng, SBS, JP, Director of the Hong Kong Heritage Conservation Foundation.
BACK